Win Bitcoin For Reviewing Fiat Money
Black Friday is a totally not-made-up tradition that unites people around the age-old practice of spending money like there's no tomorrow. Cloudbet celebrates this date with a good-spirited contest that will award BTC for the most entertaining reviews of fiat money.
After the Black Friday/Cyber Monday bonanza, humans inevitably flock to the Black Product Review frenzy, spilling buckets of passive-aggressiveness in reviewing all the useless rubbish they got because of a 10% discount tag.

You know how it goes. When the dust settles and the last box of whatever utterly worthless gadget is wrestled out of its shelf, that's when you look at your newly-acquired <insert latest shiny object here> and ask yourself:
What the hell was I thinking?
And a couple of days later it's broken. Or alternatively, a year from now, it'll still be in the box. And no one in their right mind would want to buy it, not even on eBay.
Then, in a bout of milkshake-induced rage, you open up your laptop and start typing furiously indignant reviews for every single item in your stash. Roast them all.
And now you can't wait for Christmas to come so you can unload everything onto some oblivious distant relative so you can never look at it again.
Cloudbet fiat review
Cloudbet decided to celebrate this totally not-made-up event by reviewing one of our favourite products of modern society: fiat money.
And that got us thinking. We thought that the community could do a decent job of reviewing fiat too. But in this Capitalistic world we live in, we'd hardly expect you to work for free, so we've got a few pretty spectacular prizes to give away for this.
So where do you start if you want to review fiat?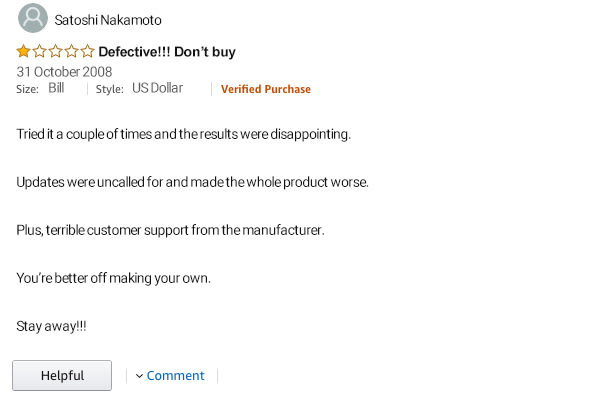 By that we don't mean only the paper stuff. Of course, you can choose to review bills too, but you can pick any traditional money-related theme. This includes, but is not restricted to:

Coins;
Cheques;
Credit or debit cards;
Bank accounts;
SWIFT;
Wire transfers;
Savings accounts;
Bank Loans;
Mortgages;
Inflation;
Remittances;
Exchange rates;
Recessions;
Etc.
And the list goes on. As a reviewer, you can write under your own name, a pseudonym, or any other celebrity/historical figure/personality you choose.
So grab your keyboard, remember all the times when the financial system has let you down (there should be plenty) and light the oven: it's roast time. (Or leave a nice compliment, if you prefer. So long as it's clever and funny, you are free to spread the love, or to set it on fire).
The best entries will be compiled and posted in an Amazon-style template after the competition.
When
The competition will open at 10:00 UTC on Monday, 26th of November, and will close at 10:00 UTC on Tuesday 4th of December.
Where
On Twitter, by following Cloudbet and posting with the hashtags #Cloudbet and #ReviewFiat
On Bitcointalk, by going to the competition thread and posting your entry;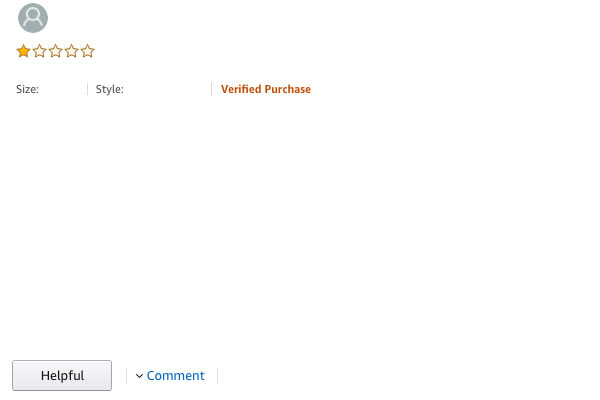 Entries should be based on 1-to-5 stars review model, as illustrated by the image above. In order to be valid, entries should contain the following:
Product: the thing you chose to review
Stars: [1-5]
Date: [optional, unless it is important for context]
Size / Style / Kind / Whatever category is appropriate for the entry
Review: your review.
Entries can be text-based or photoshopped images. We're looking for creativity, wit and of course reasons why you'd warn other "buyers" away from fiat. Or encourage them to buy the dip...
Winners and prizes
There are three ways you can win in this contest:
Top 5: our favourite entries will win BTC prizes. Our top pick will win 0.043 BTC, and the four runners-up will get 0.017 BTC each;
The first 100 entries that follow the rules will qualify for one 0.029 BTC raffle prize;
Special mentions: we'll also be picking 10 'special mentions', who will receive a commemorative physical bitcoin that we'll post to you.
BTC raffle
The first 100 valid entries will have a chance of winning 0.029 BTC from our raffle. Each entry will be assigned a number, based on the order it was posted relative to all others, starting from zero. So, the first entry is 00, the second is 01, and so forth.
After the competition closes, we will post a list with all entrants and their respective raffle numbers. The winner will be determined by the last two numeric digits of the block hash for the first block after 10am UTC on Wednesday, 5th of December.
Here are a couple examples to illustrate this:
Blockhash: 0000000000000000001cfa0e7047bcb2129a2a79e90828f9e89a2c43a572df27
Winner: 27
Blockhash: 0000000000000000001109cec284c01c2c12f3b046e6625830c7931b603cf0fd
Winner: 30
In case there are no matches, the winner will be determined by the following block until there is a match.
Terms and conditions
Entries for the main competition will start at 10:00 UTC on Monday, 26th of November, and will close at 10:00 UTC on Tuesday 4rd of December.
Winners for the main competition will be announced on Twitter, Bitcointalk and the Cloudbet blog.
Submissions must be original work - plagiarism will result in the contestant having all their submissions immediately disqualified. Plus, community shame, so be a sport and just don't.
All submissions must be in English;
Submissions must be posted in either Twitter or Bitcointalk.
The winners will be selected by Cloudbet, and all decisions are final.
The winner agrees to the use of his/her review and nickname in any publicity material.
Cloudbet will contact winners via private messaging to discuss prize delivery.
The raffle draw will take place at 10:00 UTC on Wednesday, 5th of December.
Players can submit multiple entries for the main competition; however only one raffle ticket per person will be allocated (based on time of first posting).
Bitcoin prize winners from the main competition are excluded from the raffle;
The prizes are as stated and no cash or other alternatives will be offered.
The prize is not transferable.
The prize is subject to availability and we reserve the right to substitute any prize with another of equivalent value without giving notice.
Any prizes left unclaimed after six weeks from competition end will be forfeited.
You must be old enough to gamble in your jurisdiction, and at least 18 years old to participate.
Cloudbet reserves the rights to change or cancel this competition at any time.
Cloudbet's decision in respect of all matters to do with the competition will be final and no correspondence will be entered into.
Entrants are solely liable in case their work infringe any copyrights or trademarks.
General Cloudbet terms and conditions apply.