The Highest World Cup Betting Limits in Bitcoin
Cloudbet has thrown down the gauntlet to bitcoin betting whales, announcing astonishing betting limits for the 2018 World Cup in Russia.
Underlining its reputation for offering unrivalled crypto betting limits, Cloudbet is accepting wagers of up to 20BTC/140BCH on the World Cup Group and Knockout Stages, with limits rising to an eye-watering 100BTC/700BCH for the final in Moscow on July 15th [almost €600,000 at today's exchange rate] - and our high limits are just one of the many reasons our players choose Cloudbet to place their bets.
Limits are rising to an eye-watering 100BTC/700BCH for the final in Moscow on July 15th
Limits are rising to an eye-watering 100BTC/700BCH for the final in Moscow on July 15th. Not only are our limits the highest within crypto betting - by some distance - they also dwarf the levels offered by established fiat sportsbooks.
This should satisfy the appetite for large wagers from the growing number of bitcoin high-rollers, and should any bettors want even greater exposure on the World Cup, they can simply re-bet at the same amount.
Bitcoin comes of age in Russia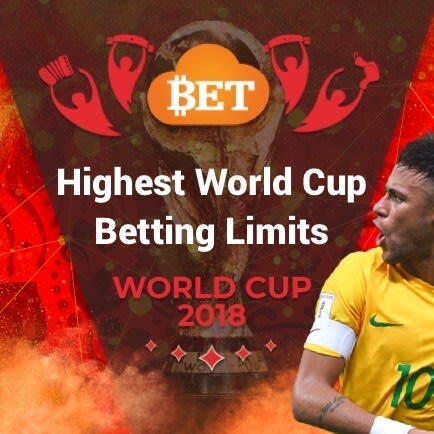 Though Bitcoin was born back in 2009, this year's event in Russia is the first where World Cup bitcoin betting enters the mainstream. Cloudbet - itself established in 2013 - is expecting unprecedented demand for those using the world's greatest soccer jamboree as the perfect opportunity to join the bitcoin betting revolution.
And it is bitcoin's unique characteristics - low fees, no fraud orchargebacks - which enable us to offer these kind of limits, while fiat books are busy setting laughably low limits for their players or just shutting down those who are successful.
Low limits available for new bitcoin bettors
While Cloudbet's extreme limits appeal to bitcoin whales, we equally cater for new bitcoin bettors. New customers can bet with minimum World Cup stake requirements as low as 0.0001 BTC, and our bitcoin betting blog offers helpful content to guide newbies through the world of crypto betting.
If you are still not convinced to join the bitcoin betting revolution for this summer's World Cup we're offering new customers a great taster with a risk free bet on the World Cup up to 6.5mBTC. Just make sure you place your first bet on a Match Winner, Asian Handicap or Total Goals for the World Cup and if it loses we'll refund your stake - read the terms and conditions for full details.

So whether you are a bona-fide bitcoin whale or yet to place your first bitcoin bet, Cloudbet is the best place to make your World Cup bets.