Cloudbet has partnered up with crypto exchange EXMO
Bitcoin betting became even safer and easier, as Cloudbet players can now rely on our new trading partner EXMO.
Buying bitcoin has never been easier than today, with hundreds of exchanges and platforms offering entry points and trading of cryptocurrencies. However, even for seasoned crypto users, finding a trustworthy platform to buy and trade bitcoin and other coins can be a daunting task.

Well, no more.
Cloudbet have just partnered up with EXMO, an established crypto and fiat trading platform, to provide a safe and reliable way for our players to get their hands on bitcoin - and more than a hundred other cryptocurrencies.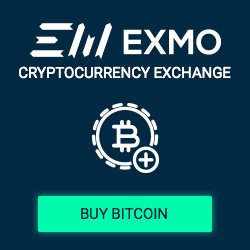 A Cloudbet spokesperson, went on to add that "EXMO, like Cloudbet, was founded in 2013. In these five years, it has added more than 1.5 million users and definitely established itself as a major player in the new crypto economy."
Today, with offices in London, Kiev, Barcelona and Moscow, Exmo is the number one exchange in Eastern Europe, and one of the most recognizable names in the space. However, with interfaces in more than 12 languages, they've really taken up to the world stage and made it easier for anyone to get into bitcoin.
That ethos is reinforced by the fact that Exmo offers more than 120 currency pairs, including six fiat currencies (US Dollars, Euros, Russian Rubles, Turkish Lira, Ukrainian Hryvnia and Polish Złoty) so there are plenty of options to trade your fiat for bitcoin without going through expensive exchange rates.
About the new partnership, EXMO's CEO Sergey Zhdanov pointed out:
EXMO is happy to provide the biggest gambling operator and its users with platform's advantages, and vice versa: to help EXMO users to get bigger profits.
To make it even better, Exmo offer a generous cashback programme of up to 70% of their trading fees depending on volume, so the more you trade, the more you get back from trading in their platform. Start Trading now.

After visiting EXMO and getting your coins, betting with Cloudbet is as easy as 1, 2, 3:
Take your pick between our Sportsbook, Casino, or Live Casino (or all of them ;) );
Become the next big winner yourself!