For the last few months Cloudbet have been adding guaranteed best odds promotions across key sports, giving bettors bigger returns. Our aim is to prove that betting is better with bitcoin - so come join the revolution.
Best odds for the EPL
The English Premier League is one of the best club competitions in the world, so when you bet on the EPL you deserve the best value odds, which are on offer at Cloudbet - guaranteed.
For the entirety of the 2019/20 EPL season, we are offering main game markets with guaranteed best odds - that means margins of around 2%. If you don't know what margins represent and why this are important, read this article first, but in short, the lower the margin the better your return, and asian handicaps are the choice of sharp bettors. Here's an example with margins included.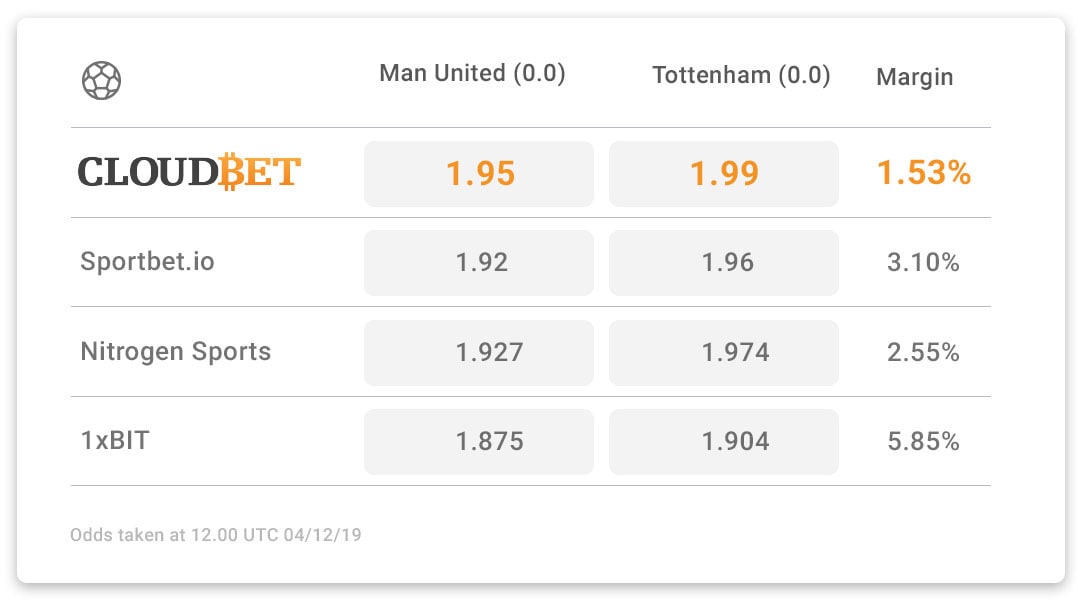 See the full campaign detail for our EPL best odds campaign here or sign up now to start betting with the best value odds.

Win more on TNF
Much of America might be heading into a chilly winter but the NFL regular season is really heating up, and for anyone wanting to maximise their returns Cloudbet are offering guaranteed best odds for every Thursday Night Football game.
What this means in practice is margins of 2% or less (-104/-104 in US odds) compared to an industry average of 10% (-110/-110) and much bigger returns.
Read the full detail of our TNF promotion here, or sign up now.
NBA Mondays - Incredible Odds
With the NBA - one of Cloudbet's most popular markets - now mid-season, we've improved our bet better promotion so that every single game on Monday night we'll be best price on the spread, guaranteed.
As with the EPL and TNF promotions, this means razor sharp margins of close to 2%, giving you fatter returns.
See the full schedule of featured NBA games here, or go ahead and sign up now.
Limits to match & no catch
You might be thinking that these offers seem too good to be true, but there are no special terms or catches. Simply sign up and deposit in bitcoin or bitcoin cash and start betting - you'll still be in line for our 5 BTC Welcome Bonus.
You can take advantage of it across all promotions and if you're thinking that our limits will be puny, think again. Betting is better in bitcoin because it allows us more freedom to offer meaningful limits.
Take a look at this example bet slip from a recent English Premier League game between Liverpool and Manchester City where Cloudbet were accepting bets of over 11 BTC which in fiat terms was well over €50,000. Where else can you find that combination of low margins and high limits?
So what are you waiting for? Start betting on the best leagues with the best odds at Cloudbet today.