Best 2019 crypto resolutions
Despite last year's turbulence in the crypto space, 2019 starts with optimism and humour at Cloudbet. Here's a list of the best Crypto Resolutions courtesy of Cloudbet's latest competition
If there's one takeaway from this so-called crypto winter, it's this: with such resilient and creative users, bitcoin & co will most certainly outlive all the death certificates that people might throw at it - and then some. This much is clear from our 2019 Crypto Resolutions contest that ended yesterday, which reinforced what we'd learned from our bitcoin meme competition and our fiat money spoof review contest.

A hopeful 2019 for crypto
Despite the weak price performance, the most obvious trend we got from the entries is that people feel generally positive about the future of cryptocurrencies. Even if predictions and wishes aren't as flamboyantly optimistic as they might have been during the 2017-18 peak, the general atmosphere is constructive, perhaps more grounded and realistic after a sobering 12 months from the all-time highs.
There seems to be a consensus around a more rational approach to investing, and a clear sense of long-term value rather than short-term gains - even though some people are still shooting for the moon and for lambos. Interestingly, there seems to be a rising interest on the technical and educational sides, which is great news for the ecosystem.
And this is a good thing, in our opinion. It signals another step towards maturity for the fledgling crypto market, and that crypto supporters and users have grown wiser and learned important lessons from the irrational exuberance that was running rampant one year ago.
This winter won't last forever, and hopefully not even for long. However, from all the great wishes and resolutions we got, the community won't give in to despair - even if it takes a while. So chin up and HODL on.
The best crypto resolutions
So, without further ado (and in no particular order), the best 2019 crypto resolutions are:
Here's to @ameljohny1's thoughtful plan for the future of his kid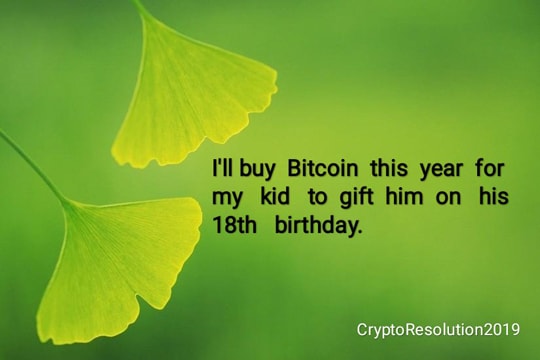 @GGR1994's (b)old-fashioned artwork on paper - well played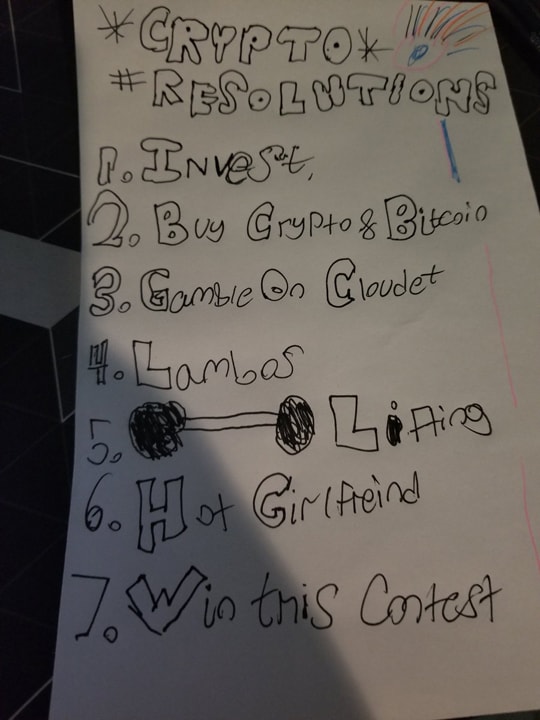 @JanEmilDenmark's crypto family plan for 2020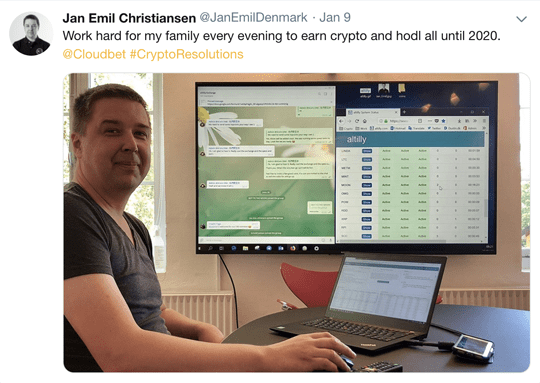 @PotokarTim's tearful reread of the party culture meme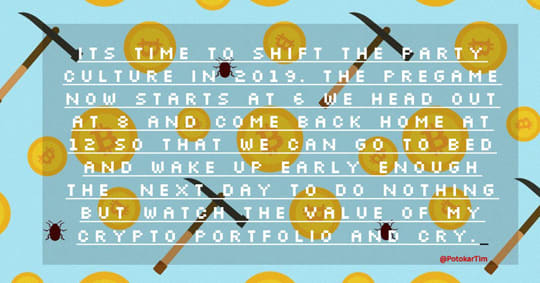 We support KingZee's career move ambition - kudos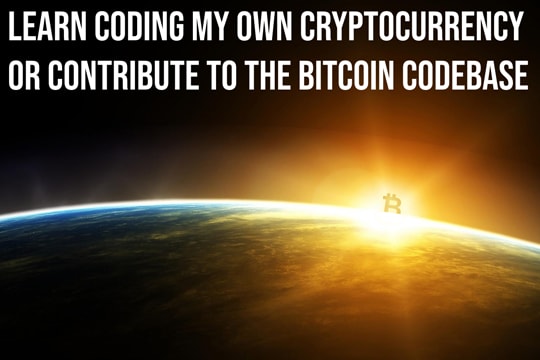 And salute NeuroticFish's walk on the lightning side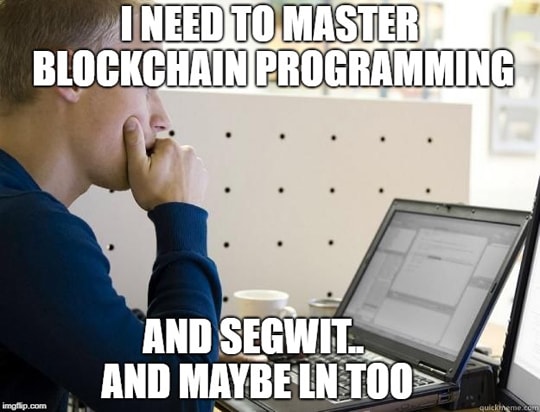 PMmesexycoins' poetic and insightful look at the road ahead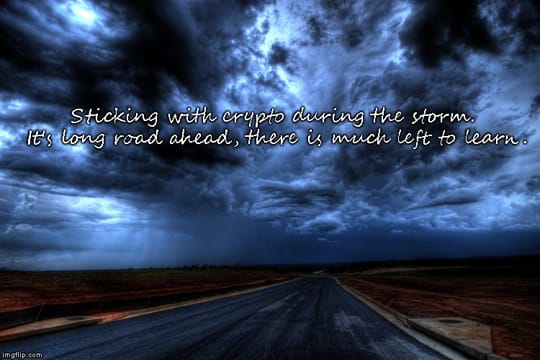 Lessons a-plenty for roosbit in 2019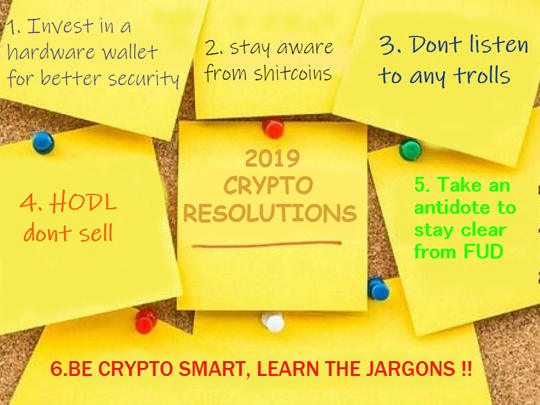 VIDEO: zvv0rd's resolutions in video format
VIDEO: enza_denino's best practices resolve (plus more ATMs)
Congratulations to all of them. Each of the winners will be contacted directly via direct message and will get 0.03 BTC for their creativity.
Ledger Blue raffle winner
Like in our previous competition, ours is not your average raffle, where you have to trust that the revealed number was actually the one that was drawn. No, not in this day and age.

So our raffle's host, our number-picker, is one that anyone can trust, as she does it randomly, in the open, and is absolutely impervious to any kind of manipulation - because math. Meet Ms. Blockchain - the ultimate provably fair raffle host.
We set the rules as we launched the competition, and made all raffle entries public on Twitter and Bitcointalk as we announced the winners. Here's the raffle table, just in case you missed it:
By the rules, the raffle winner would be the one whose entry number (from the sheet we published) matched the last two numeric digits of the hash of the first block mined after 14:00 UTC, 15th of January, 2019. That is, today. In case there was no match, we'd just wait for the next block, and the next, until one of our numbers corresponded to a raffle ticket.
Don't worry if you don't yet get all that blockchain lingo; we have explained all its inner pieces and how to navigate the blockchain before, so in doubt, you can go and check it out.
And in the very first block
Timestamp: 14:13:17 UTC

Bloch hash: 00000000000000000010fecaf1b22e5df32d8806f86d069b06edd9117dad9f02
Valid digits: 02 - WE HAVE A WINNER!
And our winner, the second entrant, posting on Bitcointalk at 11:41:25 AM UTC, January 4th 2019, is pemish! So he'll take home a Ledger Blue wallet, one of the most advanced hardware wallets in the world.
Here's his entry: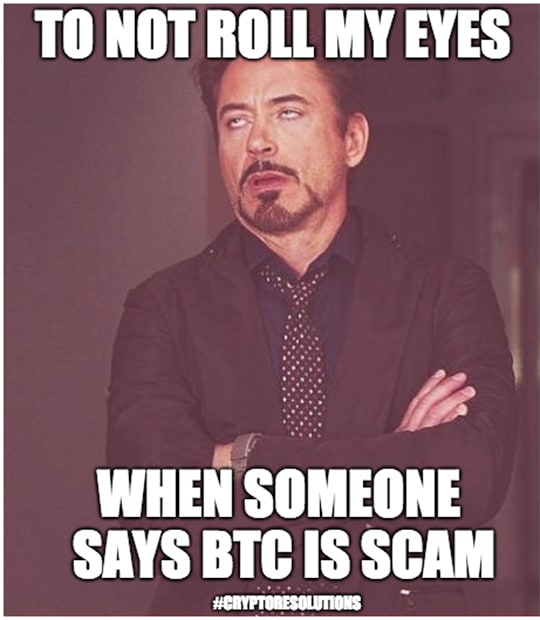 The lucky winner will be contacted via direct message and will get a brand new Ledger Blue.

What's next?
It's very rewarding to see so much optimism, involvement and growth in the crypto community. As advocates and users ourselves, we at Cloudbet will carry on promoting actions aimed at growing the whole crypto ecosystem.
So keep your eyes open and stay tuned!