Another EuroLeague season is about to come to an end, with the four best teams fighting it out in the Fernando Buesa Arena in Vitoria-Gasteiz, Spain. The 34th Final Four will take place from the 17th till the 19th of May and it is expected to be thrilling.

The teams
Real Madrid Baloncesto
The current title holders and ten-time European champions faced little problem in the playoffs against Panathinaikos Athens, defeating the Greek champions 3 - 0. With a regular season record of twenty-two wins and eight losses, two of which occurred in the last three indiferent games, Real Madrid can frighten most opponents - except perhaps CSKA, who they lost to in Madrid and Moscow, and who they will be facing again in Vitoria.
Undeterred by Luka Dončić's move across the Atlantic during the summer, Real Madrid's start to the season was impressive, with eight consecutive victories. However, two back to back losses at the hands of Olympiacos and CSKA brought clouds over the Spanish capital. And despite winning against tough opponents during the season, like Barcelona, Panathinaikos Athens, Fenerbahçe Istanbul and Khimki Moscow, the team still appeared rather unstable. This would seem more troubling if it were not for the fact that they finished 5th last season and still ended up victorious.
The champions will also have the added support of the crowd as Vitoria is only three and a half hours by car from Madrid, whilst Russian and Turkish supporters will have to endure long flights to cheer on their teams.
Key player
Real Madrid have one of the best rosters in the competition, making it hard to single out only one - with Campazzo, Llull, Randolph, Fernández all examples of key players who can turn the tide of any game. Even though Sergio Llull, with his crazy 3-point shots that can destroy any defence, is considered to be the maestro of the team - he isn't performing as well as he usually does this season. With the addition of a femoral ceps injury to his left leg keeping him from the playoffs, it is hard to predict how well the Real Madrid star will play in this crucial stage of the competition.
Llull's questionable form comes at a crucial time for Real Madrid.
Luckily for Coach Lasso, Walter Tavares, the gigantic center from Cape Verde, has been stunning - terrorizing opponents basket with his dunks and keeping Real safe thanks to his blocking abilities. With 7.6 points, 6.2 rebounds and 1.7 blocks per game, he is the man everyone should watch.
CSKA Moscow
CSKA happens to be one of the most consistent teams in the EuroLeague, with eighteen appearances in the Final Four - having missed only two since 2001. The Russian giants have conquered the top of Europe seven times, but just two titles of their titles have come after 1973 - with the most recent being in 2016. They have a reputation for being eliminated from the Final Four, even though they usually end the regular season in one of the top two spots.
Despite this reputation, CSKA shouldn't be underestimated, especially as they have defeated all teams in the regular season except Rick Pitino's Panathinaikos Athens. As the Greek champions won't be present in the Final Four, Coach Dimitris Itoudis will be hoping his side can replicate their near perfect record during the season. Victory would be Itoudis' second EuroLeague title in a short career as a head coach, and would help establish himself as one of the best European basketball coaches.
With two of the best guards in Europe, Nando De Colo and Sergio Rodríguez, as his spear, and two massive athletic centers, Othello Hunter and Kyle Hines, as his shield, Coach Itoudis is prepared to die hard in the arena of Vitoria.
Key player
As with Real Madrid, CSKA's roster includes many players able to play a key role, such as Cory Higgins, Will Clyburn or Kyle Hines. Sergio Rodríguez's performance this year hasn't added up to what EuroLeague fans are used, and therefore Nando De Colo has had to step up.
The experienced French small forward, who was draft picked by San Antonio Spurs back in 2009, is in his 5th season in Moscow, and after Miloš Teodosić's departure for LA Clippers in 2017, he is now the undisputed leader of the team. He is having a terrific season so far with an average of 14.5 points and 3.4 assists per game, and so the Russian offense will surely depend on him once again during the Final Four stage of the competition.
Fenerbahçe Beko Istanbul
Fenerbahçe is arguably the best team in the EuroLeague this season, ending up first in the regular season with a record of twenty-five wins and five losses. In the playoffs, Fener faced little opposition against Žalgiris Kaunas, who they defeated twice in Lithuania with an aggregate score of 3-1 overall.
The Turkish team's main advantage against any opponent lies with its Serbian head coach, Željko Obradović. Nicknamed the 'Lord of the Rings', Coach Zots had 8 European titles to his name with Partizan Belgrade, Joventut Badalona, Real Madrid and Panathinaikos Athens before joining Fenerbahçe. His strong record was one of the main reasons why he was brought to Istanbul, and in 2017 he led the club to their first ever EuroLeague championship, and the first for any Turkish team in history.
Željko followed an unconventional strategy from the start of the season, using almost only nine players. Kostas Sloukas, Nicolo Melli, Nikola Kalinić, Bobbie Dixon aka Ali Muhammed, Luigi Datome, Joffrey Lauvergne, Melih Mahmutoğlu, Jan Vesely and Erick the 'Gunner' Green are all critical for his play and are among the best players in Europe. However, Coach Zots usually keeps an ace up his sleeve for the big games, just as he did in the Final Four in 2002 when the then unknown Lazaros Papadopoulos dominated Kinder Bologna's paint.
Key player
Kostas Sloukas is having one of his best seasons with Fenerbahce, which certainly explains why Obradović insisted on acquiring him from Olympiacos Piraeus in 2015. The Greek point guard has 11.7 points per game, 4.8 assists and is the undisputed leader of the team. With three EuroLeague titles to his name, he has both the skills and experience to bring Fener to the top of Europe for the second time in its history.
Anadolu Efes Istanbul
Anadolu Efes was the last team to secure a place in the Final Four, with a record twenty wins and ten losses in the regular season earning them a place in the playoffs, where they beat Barcelona Lassa 3 - 2. Anadolu Efes have been the most successful team in Turkish domestic competitions, collecting 13 Basketbol Süper Ligi championships and being the first Turkish team to ever take part in a EuroLeague Final Four back in 2000 in Thessaloniki. This will be the second time the club has reached this stage of the competition, with Ergin Ataman again leading the way as Efes' head coach.
Anadolu's board chairman, Tuncay Özilhan, has invested heavily in his favorite club over the last few years, in hope of winning a European title. When coach Ataman returned to the club for a third time, he was given a carte blanche and millions to fulfill that EuroLeague dream. Players like Shane Larkin, Rodrigue Beaubois, Tibor Pleiss, Bryant Danston, and, most importantly, Adrien Moerman and Vasilije Micić, constitute a team that can match any European opponent. With their high shooting percentages and strong pick and roll offensive play, this might just be their year.
Key player
After having a terrific season in Žalgiris, Micić signed a two-year contract with Anadolu Efes and immediately became the club's leader. Fenerbahçe will have to make a tremendous effort in the semi-final to constrain the Serbian national, who has an average of 12.2 points and 5.5 assists per game.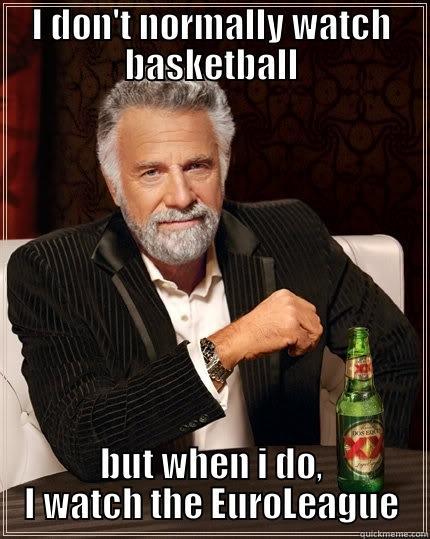 Our top tip
Every EuroLeague Final Four is very unpredictable due to its structure, as the teams only have one chance to get to the final. Our prediction is that one way or another, 'old fox' Coach Obradović will manage to secure his 10th title when facing Real Madrid in the final.
CSKA have already secured two victories over Real Madrid during the regular season, and the home ground advantage can easily turn into a double-edged sword - especially if the game doesn't go as planned.
Back Fenerbahçe (at 2.60) to win the EuroLeague.