How to Play Baccarat with Bitcoin
James Bond connoisseurs know that his favourite card game is Baccarat, but 007 is far from alone in his love for the game. So what is it that makes it so popular and how do you play Baccarat with bitcoin?
Bitcoin Baccarat - Fun, Fast and Rewarding
First off, you need to know how say it. Though spelled Baccarat, the 't' is actually silent. There's no concrete evidence as to the roots of the game, but it is rumoured to have been invented in Italy over 500 years ago and over the centuries was popular with the aristocracy.
While its origins are European, its impact in Asia is legendary. The game is based purely on luck. This merges neatly with the Chinese observations of patterns within the numbers and sense of fate and superstition.
But it's not just popular in the East. Right now, the game is more popular than ever as a new set of audiences have embraced the game's elegance and prestige. The alluring appeal of high betting requirements, lack of tactical strategy and the fortune-based nature of Baccarat meant that it has continued to thrive. And unlike with other card games, it has fewer rules so it's fun and fast-paced. It also means you can play more hands per hour and so more chances to win big. It's very easy to learn and there's no other game like it – hear is how to play Baccarat with bitcoin.
Win, Lose or Tie
First off, the aim of the game is to reach 9 by two cards. There are three possible outcomes. One is that the Player can win, one is that the Banker wins and one is a tie. Participants in the game can bet on any of the outcomes, but this must be before the cards are dealt. The numbers are worth their value, except for the 10, Jack, Queen and King that are worth zero, which is Baccarat in Italian. An Ace is worth 1. Card suits are irrelevant.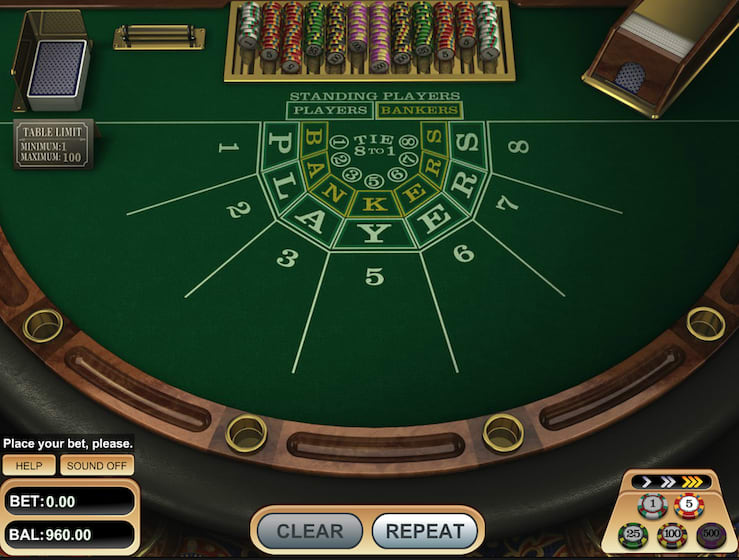 Cards come out of a shoe face down, the first of which is to the Player, the second to the Banker and the same principle for the second cards. If the Player gets a 9 with a 10/Jack/Queen/King or two cards like a 5 and a 4, then it's considered a "Natural" and is the best hand. Cards worth up to 8 is the second best hand.
The alluring appeal of high betting requirements, lack of tactical strategy and the fortune-based nature of Baccarat meant that it has continued to thrive.
If two cards add up to more than 9 (say a 6 and a 4), then the first digit is removed. So 10 becomes 0, 11 becomes 1, 12 becomes 2 etc.
All simple so far. A Player can only draw a third card if the value of their first two cards is 0-5. If it's worth 6 or 7 they have to stick. If the Banker receives a 0-2 value on their hand, they have to take a third card. If they get a total worth 3-6 then it depends on the Player's cards. If it's 7, 8 or 9 they stand. If the Player on the third hand gets 3-6 then it depends on the Players cards. You can check here for further details, but really, that is as much as need to understand the basics of how to play Baccarat.
Play Baccarat with bitcoin
And with a fun game that is fast paced and can easily have several thrilling showdowns, where else would you want to play Baccarat with bitcoin, other than at Cloudbet? Cloudbet has the classiest layout, works with only the finest bitcoin casino providers and offers the best in bitcoin betting and bitcoin cash. And adding to the cool incentives is the fact you can play it for free for as long as you need to understand the rules and game play.
When you're ready to play for real just create a Cloudbet account, deposit bitcoin and you can play in our standard Casino or if you like the thrill of a Live Dealer experience head over to our Live Casino where there are 13 tables waiting for you to join. Cloudbet's Live Bitcoin Casino offers a full interactive experience where you can see and hear the real-life dealers as they deal to you in real time. Until July 15th, you can win extra prizes in our Table King tournament. Good luck.
Now you know how to play to Baccarat with just a few clicks you can experience the excitement of playing Baccarat for bitcoin and racking up big wins at Cloudbet bitcoin casino.
Want to learn about our other casino games?