Where Can You Spend Your Bitcoin?
UPDATE 14/05: A new initiative launched by Flexa and Gemini is set to revolutionise crypto spending in the retail and food sector. Read on to discover how.
Gone are the days when the only thing you could do with bitcoin was HODL. With adoption on the rise, more and more places are opening up to accepting bitcoin as payment, taking it one more step closer to its promised status of digital cash. Finally you get some real options to spend your bitcoin.
We have listed places you can legally use your bitcoin by category - travel, retail, food and drinks, etc. While some of them are hardly jaw-dropping, others might surprise you.

This list of bitcoin-taking businesses is by no means comprehensive, with new ones being added (and some withdrawn) almost daily. But it serves as a benchmark for adoption, and also a testament of how far cryptocurrencies have come in just ten years.
Internet services
The least surprising category, internet services were amongst the first to adopt bitcoin as a means of payment. You can find a vast array of online services that take bitcoin, from the most obscure to the mainstream.
Web hosting: one of the world's most recognisable names in hosting services, Namecheap, takes bitcoin payments. But you can find countless other smaller services offering competitive rates and offering crypto payment options, like Host1plus and Hostwinds.
VPNs: perhaps unsurprisingly, as privacy is part of their business model, some of the most established VPN providers accept cryptocurrencies, including NordVPN and PIA.
Software and subscriptions: some heavy-weights have also embraced crypto, with Microsoft pioneering the use of crypto amongst the biggest tech companies in the world.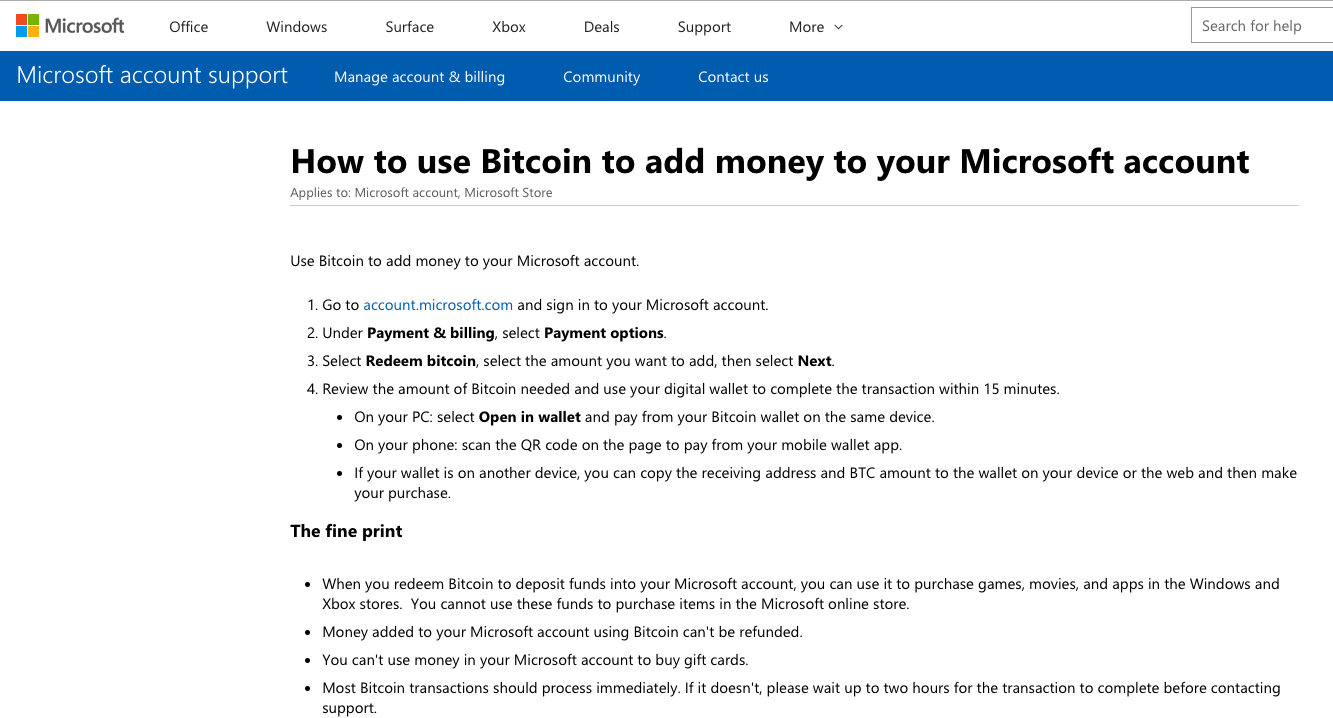 Video Games
One of the biggest potentials of cryptocurrencies lie in the videogame industry. Apart from Microsoft's XBox Store and social gaming giant Zynga's flirting with bitcoin, several blockchain-based projects promise to revolutionise the gaming industry.
On the payments side, game voucher company Bitrefill offers vouchers for some of the biggest online gaming platforms (such as Steam, Nintendo eShop, Playstation and WoW).
Gambling
Gambling was one of the first and most consistent use cases for bitcoin. Betting has been responsible for much of the early activity in the bitcoin network, and still moves quite a bit of the coins.
Cloudbet was one of the first true bitcoin-native operators in the space. Our sportsbook offers some of the widest ranges and best odds in the industry, and in our bitcoin casino you'll find dozens of slots and table games. And for an immersive casino experience, we even offer live dealers.
Retail
The crown jewel of adoption, retail promises to bridge the gap between the digital and material realms. Exchanging bytes for atoms has long-since been one of the holy grails of crypto, and this dream is becoming more real by the day.
While major retail outlets the likes of Walmart and Amazon still seem hesitant, Overstock has championed the use of cryptocurrencies as payment for years.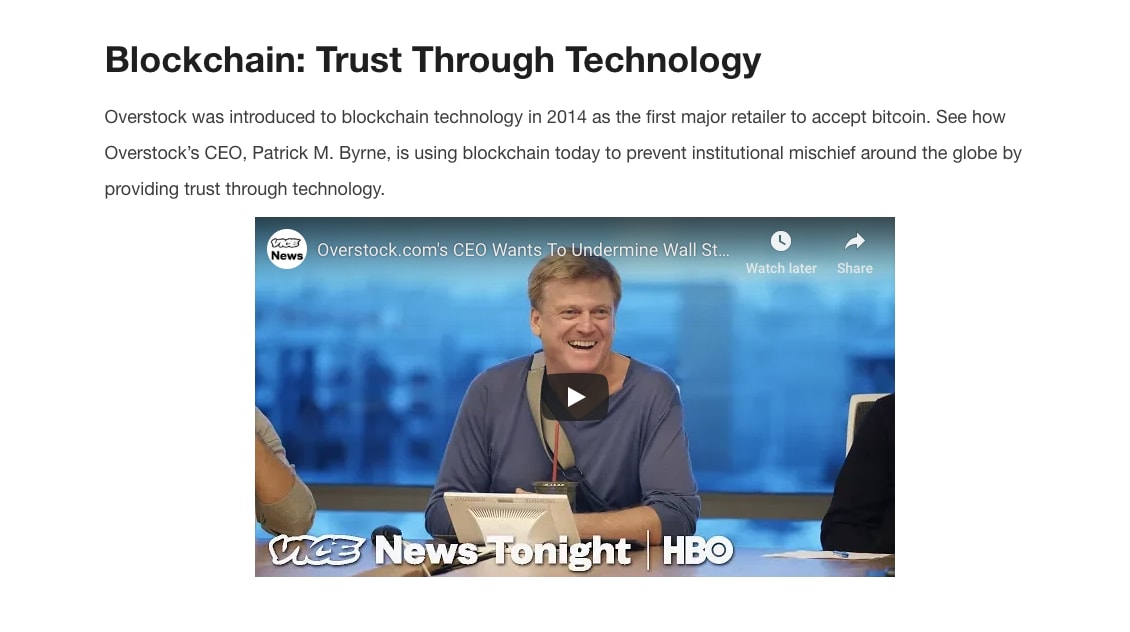 2019, however, may turn out to be the year in which other companies catch on, thanks to an initiative launched in the US by payment start up Flexa, and Gemini, the digital asset platform owned by the Winklevoss brothers.
Their partnership has paved the way for crypto to enter the realm of mainstream American shopping - with in store digital scanners in some of the biggest retailers, such as Nordstrom and Barnes and Nobles, to be configured to recognize and accept crypto payments from Flexa's app, Spedn.
All you'll need to do, then, is download the app from the US App Store, and send it crypto from your wallet. Several currencies are accepted, including Bitcoin, Bitcoin Cash, Ethereum, Litecoin, zCash and Gemini Dollar, a stablecoin backed by the US Dollar.
The app generates a one-time QR code, which can be used to pay in store, with the merchant then able to decide whether they want to keep the payment in its crypto form, or receive it in US dollars instead.
The simplicity of the process stands to be the initiative's biggest success, with nearly 100 stores expected to sign up by 2020.
For now though, it's reported that other US retailers accepting crypto include GameStop, Bed Bath & Beyond, Office Depot and OfficeMax, Lowe's Home Improvement, Ulta Beauty and Crate and Barrel. Whilst no retailers associated with the initiative have directly confirmed their involvement with Flexa, Gemini or Spedn - they're certainly the shops that seem set to embrace crypto, if not now then in the near future at least.
Overstock offers the widest range of physical goods.
For electronics and gadgets, Newegg has also declared their support of bitcoin.
Shopify is a marketplace where merchants can set up their own virtual stores, much like eBay or Amazon - with the difference being Shopify offers bitcoin payment options, so you can find an assortment of offers depending on the seller.
Decentralised market pioneer OpenBazaar offers a marketplace where you can buy and sell any product, used or new. It's also completely free to use, as no one owns the network - much like bitcoin itself.
Hundreds (or maybe even thousands) businesses and individuals are constantly posting offerings. Check the "Search" section below to learn how to find them.
Gift cards
A popular alternative to convert bitcoin into real-life products is via gift cards. The premise is simple: find a gift card for a store you would like to shop, buy it with bitcoin and trade your newly-acquired card for your favourite stuff.
Although not all cards are automatically convertible to and from BTC, it is possible to buy some major retailer cards. This broadens considerably the reach of your coins.
Purse.io offers discounts and a bonus for using bitcoin to shop on Amazon with a simple trick.
Travel and hospitality
It has never been so easy to travel with bitcoin. Not only you can use it to avoid expensive bank fees while sending money abroad, but you can actually pay for most of your trip costs with bitcoin, thanks to travel giant Expedia - and the industry is seemingly following suit.

Food
Perhaps the first ever real-world transaction in bitcoin was the (in)famous 10,000 BTC pizza in 2012 - so one could say food is at the heart of crypto. Or close to it. Fortunately, nowadays bitcoin can be used to buy much cheaper meals.
Starbucks, Baskin Robbins and Whole Foods are the major food companies associated with the new Flexa and Gemini initiative mentioned earlier, with Forbes recently reporting how Cameron Winklevoss used Spedn himself in Starbucks. Others locations where you can spend your crypto are said to include Caribou Coffee and Jamba Juice, though - as with the retailers - they are yet to confirm their participation in the scheme.
Humanly affordable pizza - Pizzaforcoins has taken a ride on the most notorious meal in crypto history to establish itself as a leading blockchain pizza parlour.
Some chains have been slowly starting to take bitcoin - such as KFC Canada and some Subway franchises.
Apart from that, coffee shops, local restaurants and even some are taking bitcoin - even if most chain and high-street restaurants are still not taking it. So don't expect to use bitcoin to pay for a Michelin-starred meal anytime soon.
You can even use a little trick on Yelp to try and search for bitcoin-friendly eateries: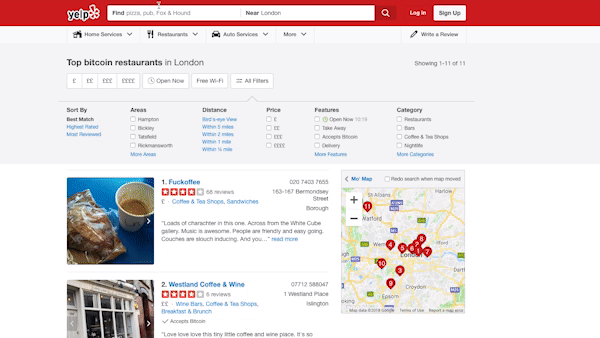 Entertainment
If you are out for a drink, however, there are several bars and pubs throughout the world (including some franchises of the Brew Dog chain) that take crypto for booze - and even nightclubs these days, although the latter is still quite rare.
Other
Some not-so-obvious industries have also began accepting cryptocurrencies, too.
Charity
Although not technically businesses, charities are yet another way you can spend your bitcoin - and for a good cause, too. Bitcoin's near-instant and borderless nature is very handy when it comes to helping tackle some of the world's most urgent problems, reaching the organisations that need it faster and cheaper than fiat donations.
Being also relatively private and censorship-free means that organisations such as Wikileaks can continue to receive donations in spite of any government sanctions. Some of the organisations that have started taking bitcoin donations include:
Search
As hosts of new options appear, there is an increasing need for ways of searching and browsing through the hundreds of new merchants. Luckily, there are services dedicated to helping you find the right place to spend:
Now that you know all the ways you can use your bitcoin, why not take the chance and double your coins at Cloudbet? Come try our bitcoin casino, where you can find hundreds of fun casino games, including live tables with real dealers.

Alternatively, if you're more into the excitement of sports betting, give our sportsbook a try - you'll find some of the best odds for all the major sporting events in the world.