How to buy bitcoin cash: a comprehensive guide
Buying bitcoin cash is not that different from buying bitcoin, though depending on where you live you may need to first buy bitcoin to get bitcoin cash. Confused? Don't be. We put together a guide to help explain just where and how.
Even though Bitcoin Cash is the fourth-largest cryptocurrency with a total market capitalisation of over $15 billion as of July 2018, buying it is still not as straightforward as buying Bitcoin. That is not to say it is a hard coin to come by - on the contrary, Bcash is one of the most widely accepted altcoins in the cryptospace.

There are three ways you can get bitcoin cash: mining newly minted coins, claiming bitcoin cash if you had any bitcoin before the fork, or buying it in the open market. Mining can be an expensive and complicated process, so it's recommended that you start by buying your first coins. This article will focus on the ways you can turn your cash into bitcoin cash to help you start betting in no time. And if you haven't claimed yours already, we will point you to the right direction below.
Turning your fiat currency (USD, Euro, etc) directly into bitcoin cash is a relatively new option, but the growing acceptance of cryptocurrencies means that are more ways to do that every day. It only takes three steps:
Setting up a bitcoin cash wallet: basically the same as a bitcoin wallet.
Choosing where to buy: this will depend on the availability in your country and your general preferences regarding anonymity, price, speed and security.
Choosing a payment method: few places have a fiat-Bcash pair, meaning most options require you to buy bitcoin first, but we'll walk you through it.
Let's dig a bit into each one of them.
Step 1: Choosing and setting up a bitcoin cash wallet
Same as with bitcoin, choosing and setting up your bitcoin cash wallet is the first step to getting your bitcoin cash. Even if bitcoin has the most options, bitcoin cash has a considerable portfolio to choose from, too. Plus, more and more wallets are working on becoming multi-currency, conveniently enabling you to HODL and trade in several cryptocurrencies on a single interface

Again, we recommend Copay if you are a beginner - it's a free, open source wallet that holds both bitcoin cash and bitcoin, with the added bonus of allowing you to sync the same account throughout all major platforms - Windows, Mac, Linus, iOS and Android are all supported.
Plus, Copay has built-in integration with Shapeshift, a simple and streamlined service you can actually use to exchange bitcoin for bitcoin cash and many other currencies without leaving your wallet (more on that below).
We put together a guide to choosing your wallet, as well as to how to set it up and start transacting right away.
Even if some online services boast their own web wallets, it's good practice to always keep your funds in a wallet for which you control the private keys, preferably not online, to mitigate the risk of losing your money to a hack or failure in the third party's servers.
WARNING: BITCOIN CASH ADDRESSES
Bitcoin cash is a fork of the Bitcoin network, and initially shared the same address format with BTC. Even if this has since been updated, please be extremely careful when sending or receiving bitcoin cash. Luckily the new format is easy to spot. It's longer than the old one, and it starts with a distinct set of characters.

- Legacy BCH addresses are 34 characters long start with the numbers 1 or 3 and look just like a regular bitcoin address (e.g., 1BpEi6DfDAUFd7GtittLSdBeYJvcoaVggu);

- New BCH addresses are 42 characters long and start either with bitcoincash:qp or just qp (e.g., bitcoincash:qpm2qsznhks23z7629mms6s4cwef74vcwvy22gdx6a). Both are valid, and you can safely remove the bitcoincash: part.

When sending BCH always double check if the receiving address corresponds to a Bitcoin Cash address. When receiving it, make sure you give the right one. If you send your coins to the wrong network you risk losing your funds!
After getting yourself acquainted with your wallet, it's time to move onto the buying options.
Step 2: choosing where to buy
There are fewer options when trying to buy bitcoin cash directly with fiat money, but it's still easy to find a service that suits your need.
Again, choosing the best place to buy BCH (the ticker for bitcoin cash in most exchanges; alternatively also BCC) depends primarily on the country you live and the legal status of cryptocurrencies in your jurisdiction. Although legal in most countries, bitcoin regulation is still in its infancy, and the resulting uncertainty means some providers may be unable (or unwilling) to offer their services in certain countries.
However, if you're having trouble finding a direct entry point to bitcoin cash, do not fear: simply start by buying bitcoin. There are plenty of places you can trade your bitcoin for bitcoin cash, so follow the steps in Cloudbet's guide and keep reading to learn how to exchange BTC for BCH.
The main places you can get Bcash are exchanges, dedicated OTC (over-the-counter) marketplaces, unmediated P2P (peer-to-peer), and ATMs. Options vary greatly according to your preferences, so apart from availability you might want to consider user-friendliness, payment methods, costs/fees, security and anonymity. Alternatively, you can claim your bitcoin cash if you owned bitcoin before and during its forking in August 1st, 2017.
Here's a grossly-oversimplified summary of how each choice stands against each factor for bitcoin cash:
| | | | | |
| --- | --- | --- | --- | --- |
| | Exchanges | OTC Platforms | P2P | ATMs |
| Availability | ⭐️⭐️⭐️ | ⭐️⭐️ | ⭐️ | ⭐️ |
| Ease of use | ⭐️⭐️⭐️⭐️ | ⭐️⭐️ | ⭐️ | ⭐️⭐️⭐️⭐️⭐️ |
| Security | ⭐️⭐️⭐️⭐️⭐️ | ⭐️⭐️⭐️ | ⭐️ | ⭐️⭐️⭐️⭐️ |
| Payment methods | ⭐️⭐️⭐️ | ⭐️⭐️⭐️⭐️ | ⭐️⭐️⭐️⭐️ | ⭐️⭐️ |
| Cost/Fees | ⭐️⭐️ | ⭐️⭐️⭐️ | ⭐️ | ⭐️⭐️⭐️⭐️⭐️ |
| Anonymity | ⭐️ | ⭐️⭐️⭐️⭐️ | ⭐️⭐️⭐️⭐️⭐️ | ⭐️⭐️⭐️⭐️ |
Please note that our scores are subjective and reflect optimal choices within each category.
Generally speaking, exchanges are the go-to place to get bitcoin cash for your money, as liquidity is smaller than BTC and it's harder to find platforms or peers to trade directly with. Also, ATMs that offer BCH are quite hard to find outside rich urban centres, so don't expect this option to be readily available.
Lastly, if still you choose to go directly P2P - and manage to find a seller - know that it is a very risky option. However, it's the most flexible and anonymous choice, going straight from wallet A to wallet B. If you're new to bitcoin, we strongly discourage you from choosing this option unless you personally know and trust the seller.
You can find a description of the main categories below, as well as the pros and cons of each of them in relation to bitcoin cash.
Exchanges
The good news is, as bitcoin cash becomes more established, more exchanges are adding support to buying it straight from fiat deposits. The bad is that not all of them are available to everyone, and some payment methods (such as cards) might be restricted to BTC. That means you will probably be paying trading fees twice, as you'd pay a fee to first buy bitcoin, and then again to trade BTC for BCH.
On the flip side, starting with bitcoin gives you access to another choice of exchange, which we'll call simplified exchanges - read on to learn more.
For regular exchanges, our recommendation for bitcoin offers the same options for bitcoin cash, so if you choose this path Bitstamp is our recommended place to start. You can use the same steps you would for buying bitcoin, but make sure you select a BCH/fiat (USD/Euro) pair to buy bitcoin cash.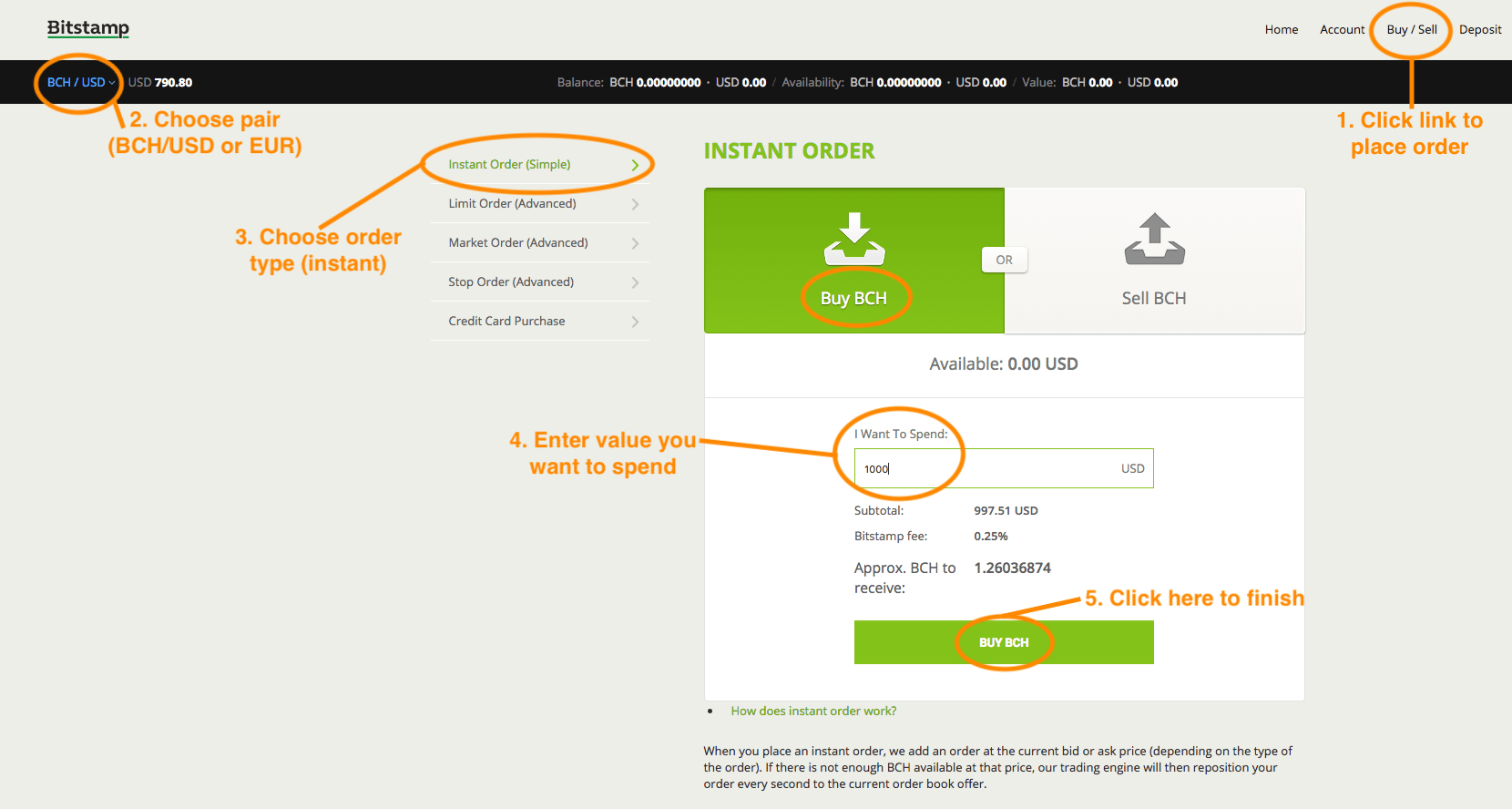 Alternative options: Coinbase, Bitfinex, Kraken

Finally, if you already have bitcoin, you have plenty of options. BTC/BCH is among the most common trading pairs in the market. Just transfer your bitcoin into your preferred exchange and choose that pair before you trade.
If you are a beginner, we recommend starting by using market orders (also called instant orders) to get yourself familiarised with the interface. Market orders are the easiest approach, as they require no previous knowledge of how the market works and execute instantly.
Simplified Exchanges
Alternatively, buying with bitcoin gives you access to a streamlined kind of exchange, that requires no verification and offer instant transactions: Shapeshift and Changelly are the leading such platforms.

In these, you state how much BTC you are willing to spend and get an instant quote. Then you only need to set your receiving wallet, send bitcoin to the address generated by the service within a certain time frame, and in a few minutes your bitcoin cash will be in your wallet. You can exchange countless other currencies as well. Note that your receiving wallet must be one for which you control the keys, and using exchange or online wallets can lead you to lose your funds!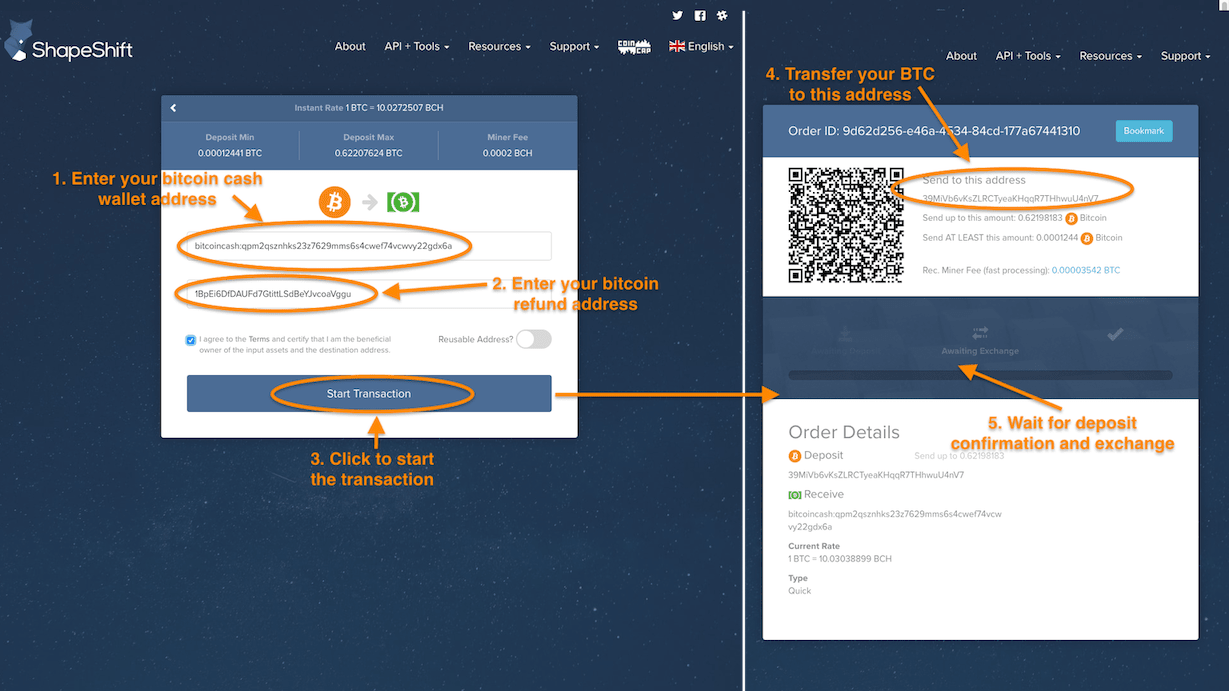 The only drawback to this approach is individual transactions have low limits, so buying higher amounts of BCH might require you to repeat the process. On the flip side, it offers a much bigger level of privacy, since you don't need to go through ID verification to use them.

Dedicated OTC (over-the-counter) marketplaces
Unfortunately, even if BCH is one of the biggest cryptocurrencies, its liquidity is still much lower than its big brother. That means that you may find it hard to find a counterpart for an OTC trade. To make things worse, there are very few options of OTC marketplaces that support bitcoin cash - the most well-established OTC platform, Localbitcoins, currently does not offer BCH. The closest ones are Localbitcoincash.org, an unrelated spin-of of the original, and WallofCoins. Neither one has as many listings as Localbitcoins, and both are new services - which means they haven't got an established reputation yet, so use them at your own risk.
If you choose to use these services, then remember that reputation and trade history are the first key factors to consider when choosing a seller. We recommend that you start by trading with reputable sellers and always use the platform for communications and deposits, in case you should ever need to create a dispute.
P2P direct
WARNING
This option involves meeting strangers in real life, and you may be risking not only your funds, but also your life. Our suggestion is, if you are a beginner, don't take this path. However, if you're still reading this it means you are seriously considering it, so at least take all the necessary precautions. Always meet in a crowded, public place and try to bring a friend or two along.
If all other options are exhausted and you decide to go full-on P2P to get your bitcoin cash, then we recommend you read the P2P direct section of our guide to buying bitcoin, and the same warnings apply.
As with OTC platforms, it may be harder to find a seller to buy bitcoin cash directly from. If you need to find a peer to trade, you can check Bisq, a decentralised P2P exchange that matches buyers and sellers directly, and offer listings on fiat, bitcoin, bitcoin cash and other altcoins. Since transactions depend on myriad factors, we can not vouch for this - use it at your own risk.
Bitcoin ATMs
These are, perhaps not surprisingly, ATMs where you can buy or sell bitcoin and sometimes other currencies. Being new kids on the block(chain), these machines are still very thinly spread (mostly restricted to richer urban centres), so you can count yourself among the lucky few if you have one of these near you.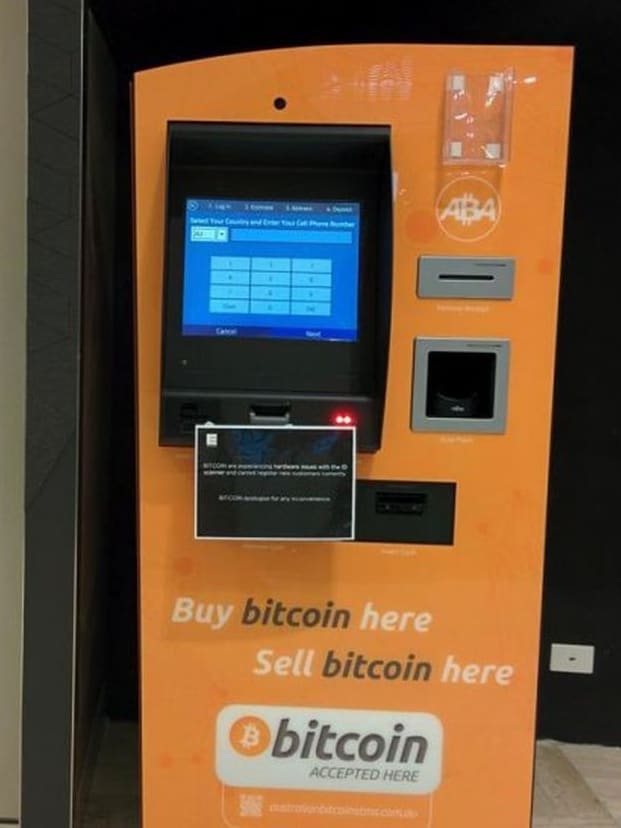 To make matters worse, less than one in five (18.9%) support bitcoin cash, so chances are very slim that you will get your BCH from one of those. Also, it's worth noticing that distribution is still very uneven, with almost 75% of active ATMs deployed to the US and Canada and 21% in Europe. Still, with an average of five installations per day, keep your eyes open; maybe one will pop up close to you in the near future.
You can check if luck has put one of these close to you, but beware: average fees are high, amounting to a whopping 8.18% of the amount paid.
Step 3: choosing a payment method
Overall, the choices are basically the same as for bitcoin. However, the availability for some options is much more limited (or even non-existent) when buying bitcoin cash from fiat.
As we mentioned before, if you can't find buy BCH directly with your choice, the easiest solution is to first buy bitcoin and then use it to exchange for Bcash - we'll cover that below.
If you choose this path, we recommend you follow our guide on buying bitcoin and then check the options for exchanging it for BCH on Step 2.
Now let's take a look at the options:
Use Bitcoin
Probably the most versatile way to get your bitcoin cash, as you have all the options available for buying bitcoin - plus you can use simplified exchanges like Shapeshift and Changelly, as we've shown in Step 2. On the other hand, buying bitcoin cash this way means you are probably paying twice the exchange fees - once when purchasing bitcoin, and again when converting to BCH.
However, if buying BCH directly is not available to you, we have got you covered: just buy bitcoin first, and then come back to this article.
Bank transfers
Favoured by most exchanges, bank transfers are an easy and secure way to have your money turned into bitcoin. You can also pay by bank transfers in OTC marketplaces (straight into the seller's account) and in P2P direct transactions. Being traceable, bank transfers are unsurprisingly not anonymous.
Bank transfers to a BCH-supporting exchange is one of the cheapest and most reliable way of buying bitcoin cash directly.
| | |
| --- | --- |
| ✅ Pros | ❌ Cons |
| - Easy to use | - Can be slow |
| - Secure | - Not anonymous |
| - BCH-friendly | - Can be expensive |
Verdict: use this if anonymity isn't a problem and you don't mind waiting a bit.
Credit/debit card
Cards are an easy, quick and secure way to pay for your bitcoin cash, and a few services offer card-to-BCH instant buys. However, places that do take them usually add a considerable commission to the final price tag. Plus some credit card issuers will consider these transactions to be a cash advance, thus charging even higher fees - it can get very expensive, very fast. Also limits are usually quite low, so if you're looking for larger amounts, this is probably not for you.
You can use your card in exchanges such as Bitstamp, Coinbase and CEX.io, directly from vendors such as Coinmama, Bitcoin.com and Changelly, and possibly with rare sellers on OTC marketplaces.
✅ Pros

❌ Cons

- Easy to use

- Very high fees

- Secure

- Not anonymous

- Fast

- Fewer choices

- Low limits
Verdict: use this if anonymity isn't a problem and you're buying small amounts.
PayPal, Neteller and other online payment platforms
Even if there are probably some obscure workarounds to buying Bcash directly with these, more realistically you'll need to buy bitcoin first, and then convert it in an exchange or other service.
Since buying even bitcoin with these is not an easy (or cheap) task, you should probably go for other methods.
| | |
| --- | --- |
| ✅ Pros | ❌ Cons |
| - Easy to use | - Expensive |
| - Fast | - Very few options, if any |
| - Secure (for buyer) | - Uncertainty (for seller) |
Verdict: better off using traditional bank transfers, unless that is not an option.
Cash/gift cards
If you would like to keep your purchase anonymous, then your first choice should be an anonymous entry point: either cash or gift cards. The problem is, as these options are restricted to OTC marketplaces or P2P transactions, you will likely have a hard time using them to buy BCH.
Again, the best call here is to first buy bitcoin, then change for bitcoin cash. Alternatively, you can try your luck at the services mentioned in the OTC marketplaces section on Step 2.
| | |
| --- | --- |
| ✅ Pros | ❌ Cons |
| - Highly anonymous | - Expensive |
| | - Very few options |
| | - Can be unsafe |
Verdict: use it if you value anonymity and don't mind paying more for it; be careful if meeting in real life.
Claiming your (unclaimed) bitcoin cash
If you happened to be a holder of bitcoin before and during the fork that gave birth to cash and if you haven't already done so, there might just be some BCH sitting around waiting for you. The process to retrieve it varies depending on where your bitcoin were stored.
If you kept your BTC at an exchange, you can check this list to see if your service honoured the split. If they did, check their FAQ or ask their support team for instructions if you haven't been automatically credited;
If you kept it on a wallet for which you control the keys, you can retrieve it even if your software doesn't offer BCH support. You need only import your private keys into a wallet that supported the fork, and then follow the instructions. If you don't know where to start, our recommended wallet Copay has a guide on how to claim your coins on their platform.
However, if you kept your bitcoin in a web wallet or service that holds your keys and didn't support the fork, you may find yourself unable to claim your coins. The only thing to do is to reach out for their customer service and ask if they plan on honouring the split - very unlikely, if they haven't by now.
That's it!
Congratulations, you're now the proud owner of bitcoin cash!
If your bitcoin cash were sent to a web wallet on a third party service, make sure you withdraw it to the wallet you set up. Now you can simply hold onto it - it is a great store of value -, trade them for another cryptocurrency, of spend it on goods and services - bitcoin cash is fast and has very low transaction fees.
Alternatively, you could open a CloudBet account and send your funds to our deposit wallet and in no time at all be betting on a huge range of sports markets or playing in our exciting bitcoin casino, where your initial investment could turn into something much greater. Give it a try!